How to Repair a Leaking Head Gasket
Replacing the head gaskets on any car or truck is kind of a gray area on whether or not to take it to a professional. A lot depends on your mechanical abilities and tools. F150s that are late 90's models and up are more difficult than some other head jobs because either the motor has to come out or the cab has to be lifted off of the chassis. It can be done either way, but most mechanics lift the cab off of the chassis. Once the cab is lifted, or the motor is out, replacing the head gaskets is the easy part. Most of the bolts and wires will be easier to get to. When you remove these bolts, place them on a shop towel on a clean dry flat surface in the order you remove them. This will help when you are looking for bolts as you put all of the parts back in.
Part 1 -- Remove the Head:
Drain the air conditioning system with an approved recover, recycle, and recharge machine.
Disconnect the Battery. Always disconnect the battery if you are working on a newer model car. A newer model car is any car that has more electronics on it than spark plugs, radio and lights.
Drain the engine coolant.
Remove the breather and plastic throttle body cover.
Disconnect the engine heater hoses from the engine.
Remove throttle body.
Remove fuel injectors. *NOTE: FUEL SYSTEM IS UNDER PRESSURE!
Remove the valve covers.
Remove the intake manifold.
Remove the exhaust manifold.
Remove the timing chain covers and timing chain.
Disconnect any remaining wires, bolts, hoses, or brackets that may be attached to the head.
Unbolt the Head and it is ready to come off.
Part 2 -- Cleaning and inspection
After the head is removed, all of the engine, head, and intake manifold surfaces must be clean, dry and free of gasket pieces, dirt particles, oil spots, and debris. You can use a knife, scraper, file, or angle die grinder with a surface prep pad attached. DO NOT use a grinding wheel on the die grinder. You must use a prep pad or equivalent. After the head is cleaned, inspect it for warping. If you are unsure, take the head to a machine shop and have it checked and possibly shaved. Once you are sure the head is in good condition, it is time to start putting everything back together.
Part 3 -- Installation
Place the head gasket on the dowel pins.
Start each cylinder head bolt. *NOTE: YOU MUST USE NEW HEAD BOLTS!
Run each head bolt down snug.
* IMPORTANT TIGHTENING INSTRUCTIONS.
HEAD BLOTS MUST BE TIGHTENED IN 3 STEPS IN THE CORRECT ORDER!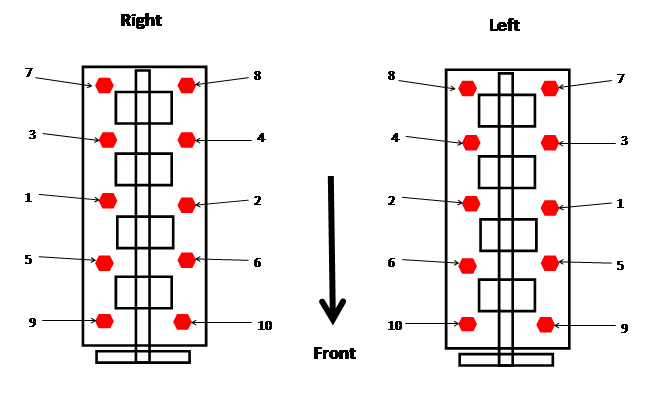 Using a torque wrench, follow the correct order and complete these steps:
Step 1:  Tighten each bolt to 30 ft. lbs. (40 Nm). Start with bolt 1 and work your way to bolt 10.
Step 2:  Tighten each bolt and additional ¼ (quarter) of a turn.  Start with bolt 1, and end with bolt 10.
Step 3: Tighten each bolt another ¼ (quarter) of a turn. Start with bolt 1 ,and end with bolt 10.
Part 4 -- Finishing the job.
Replace any remaining wires, bolts, hoses or brackets that may have been attached to the head.
Replace the timing chain and covers. (This would be a good time to replace timing chains if they have not been replaced.)
Install doughnut or gasket and install the exhaust manifold.
Install the new intake manifold gasket and intake manifold.
Install the new valve cover gaskets and valve covers.
Check o-rings on fuel injectors, and replace o-rings if necessary.
Install fuel injectors.
Install throttle body.
Install heater hoses.
Double check for any wire, ground wires, hoses, bolts, or brackets they may have been overlooked.
Install plastic throttle body cover and breather.
Connect the battery.
Fill the engine oil, coolant and refrigerant.
Crank the engine, and check for leaks.